The
MTV Video Music Awards (VMAs)
were this past Sunday. To be quite honest, I found it really boring. The Black Carpet Pre-show with everyone walking showing off their outfits was more entertaining than the actual awards. There were some really wonderful outfits this year! Almost everyone looked great!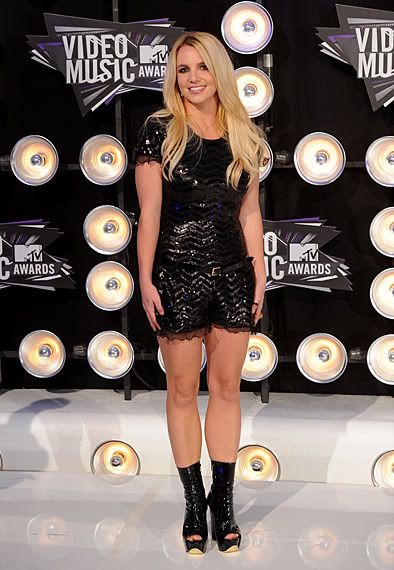 Britney Spears
looked fabulous! She wore a simple black outfit consisting of shorts and a matching shirt, with a belt accenting it. Her boots are to die for! She looks great!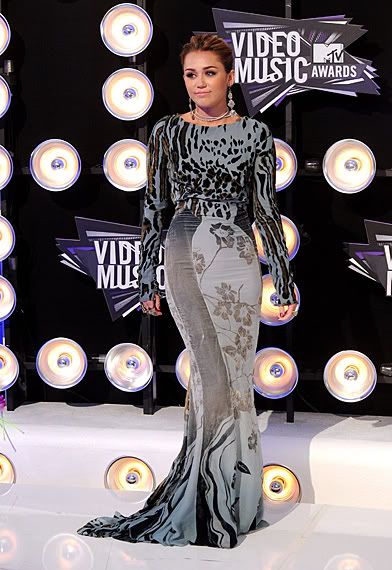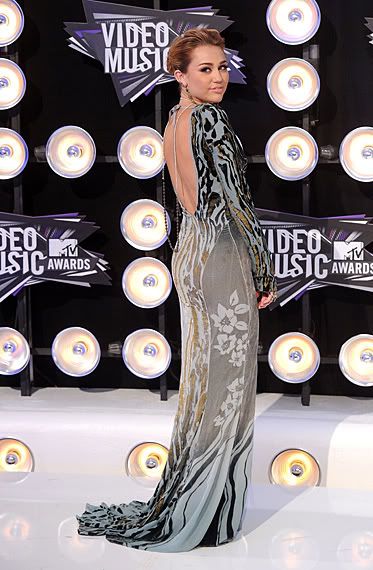 Miley Cyrus
looked A M A Z I N G! Her dress is one of my favorites! Just LOOK at it! I love the colors and the pattern. The front is classy and conservative, then when she turns around the back is sexy and seductive! The length makes it really formal and elegant, and the way it hugs her hips then flows down really makes it beautiful.
Selena Gomez
's dress was really cute. I love how it was short in the front, but long and flowy in the back. The lace detailing in the front cleavage part was sexy, but elegant at the same time.
Demi Lovato
looked absolutely stunning! People were saying she looked "chubby", but I think she looked good! She looks so sexy! :P Really a different look we don't expect from Demi.
Kim Kardashian
looked glamorous, but do you expect anything else from her? She wore a lovely flowing gown that shimmered. Nothing but GLAM!
Katy Perry
looked Tokyo chic! I loved this outfit. The detailing on the dress is really makes it special. I love the color scheme and fit of it. The shoes are just gorgeous, and the parasol completes the look and brings it all together.
Nicki Minaj
was super kawaii! Her outfit looked crazy, but I really liked it. It's something that no one would ever be able to wear in everyday life, but that's what red - or in this case, black - carpets are for! I love that metallic bustier pyramid... thingie. The stuffed animals and other kawaii stuff are what makes the outfit!
Beyonce
was GLOWING on the carpet! Which should be no surprise since she announced she was pregnant! Her gown was perfect for a pregnant woman, it was elegant and nice and flowy and loose fitting. The orange color looked amazing on her!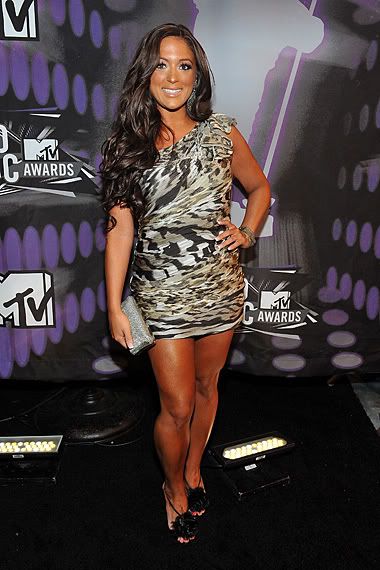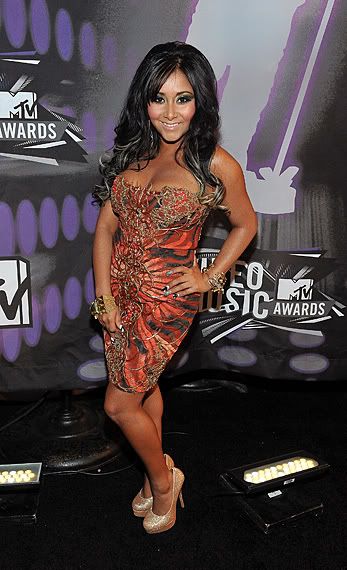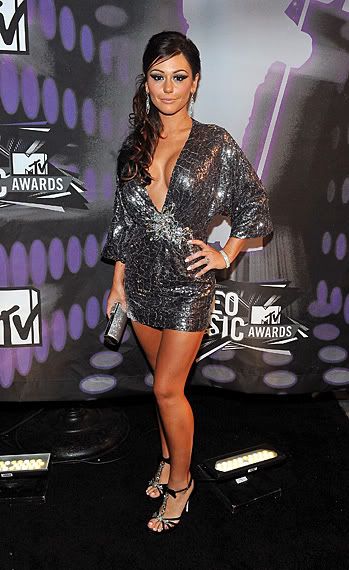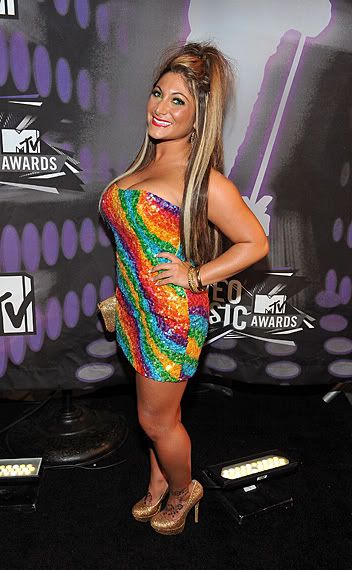 The
Jersey Shore
girls,
Sammi
Giancola, Nicole "
Snooki
" Polizzi, Jenni "
Jwoww
" Farley, and
Deena
Cortese, all looked great! They kept true to their style, and wore short dresses like you would wear to a club. I LOVE Snooki's, and Deena's rainbow dress is amazing too. Although if you look closely at the picture, Deena has green contacts in, which I feel are unnecessary and make her look tacky. Her hair and makeup are over-the-top, and the contacts just bring it to the next level of crazy!
Kreayshawn
's dress I actually liked. It's childish (in a good way), colorful, and fun! I personally wouldn't wear sneakers with it, but that's her style.
I didn't like anything about
Adele
's look. The dress is really plain and boring, and looks like something you'd get on clearance at Forever21. The shoes are nothing special either, and her hair makes her head look huge!
Lastly, I'd like to mention
Joe Jonas
. Men's red carpet fashion is usually the same thing, a suit. But Joe switched it up and put together a really nice outfit. He kept it casual with jeans and sneakers, but dressed it up with a white, old-fashioned button-down, and a nice blazer. The gold trim on the blazer adds something to the outfit so it's not all black and white. I really liked it.
That was my review of the MTV VMAs 2011 fashion! I hope you all enjoyed! :)
P.S. I didn't like
Lady Gaga
's gimmick, at all. It was fun at first, in the beginning when she performed. But by the end of the night it got annoying! She looked horrible too. I've seen pictures or her as Jo Calderone and she looked way better, and more manly.
All photos from MTV.com
MTV, VMA, Video Music Awards, 2011, Fashion, Red Carpet, Black Carpet, Britney Spears, Tribute, Demi Lovato, Selena Gomez, Miley Cyrus, Beyonce, Pregnant, Baby, Katy Perry, Kreayshawn, Nicki Minaj, Joe Jonas, Kim Kardashian, Adele, Jersey Shore, Snooki, Jwoww, Jenni, Jenny, Deena, Sammi, Ronnie, The Situation, Vinny, Lady Gaga, Jo Calderone, Review, Outfits, Recap, Kaori, Fashionista, Beauty, Makeup, Guru, Youtube, DITL, OOTD, Personal, Twitter, Tumblr, Blogger, Vlogger, Blog, Designer